MORE DISPLAY PRODUCTS
Here you'll find even more ways to get your message accross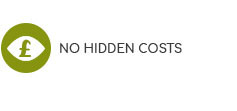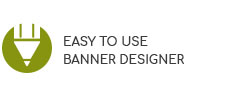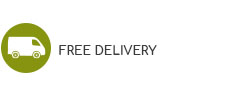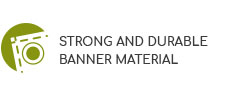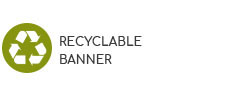 Here at The Banner Hub, we not only produce recyclable printed banners, but a whole host of other printed items too. Here we have a range of printed items that could help further with your event, retail space, promotion or celebration.
Roll up banner stands
Roll up banner stands are a great way to advertise in store promotions and display important information in retail spaces, museums, galleries and educational settings. These lightweight and stylish banner stands are extremely easy to assemble. They are very portable, so you can easily move them around to fit in to your available space. The banner is printed and assembled within the banner stand cassette, ready for you to take out of the carry bag, pull up and secure in place. The visible graphic area is 850 x 2000mm, giving plenty of space for an eye-catching and attractive design.
To order your roll up banner, simply buy online and then send your print ready artwork direct to us here, including details of your order. The price includes printed graphic and delivery. For information about supplying your print ready file please click here.
Road closed signs
Road closed signs are really useful when organising a large event or a street party. They are easy to display using the eyelets along each edge and are perfect for all kinds of events where temporary road signage is required. Road closed signs are available in two sizes (850 x 600mm and 1000 x 750mm) and are printed onto recyclable banner material.
Car park signage
Car park signage is also often required for marking the temporary use of land for car parking at organised events. As with the road closed signs, these car park signs are printed onto recyclable banner material at 750 x 750mm.
Do you have something else in mind?
We can produce a whole range of printed promotional items, so if you have a printed product in mind for your event that you don't see here, please get in touch to see if we can help. Call us on 0344 8118750 or email sales@thebannerhub.co.uk.