Hints and tips for designing your own banner
What is your key message?
You need to make sure that your key message is easily readable and as eye-catching as possible. One way to do this is to avoid over-crowding your banner. It can be tempting to throw everything at it, but this isn't always the best idea when it comes to the design of a printed banner.
Make sure there is contrast between the text on your banner and the background behind it. If your banner has a light background, then the text should be a dark or contrasting colour. If your printed banner will have a dark background the text colour should be light and bright. This will help your words be easily read and your message understood loud and clear.

Adding images
An image can really help to tell a story, give your banner the personal touch or reinforce your brand awareness. Whether it is a family photograph or a company logo, images can really make a difference. When adding a photograph to your printed banner design, make sure the original file that you choose is really high quality (or high resolution). This means, when you zoom in on the photograph, the quality of the image should not reduce or become pixelated.
Remember that the image on the finished printed banner could be rather large, so the bigger the finished size, the higher the quality needs to be. For more information about image quality, please click here for our artwork guidelines.

Leave space at the edges
When your banner is printed, it will be hemmed and eyeletted so that it is durable and easy to install. The eyelets are evenly spaced around the edge of your banner, so it is best to make sure that any text is kept away from the edge of your design. The eyelets are only about 5cm in diameter, but by keeping text away from the edge of the banner, you are ensuring that no information will be obscured during finishing.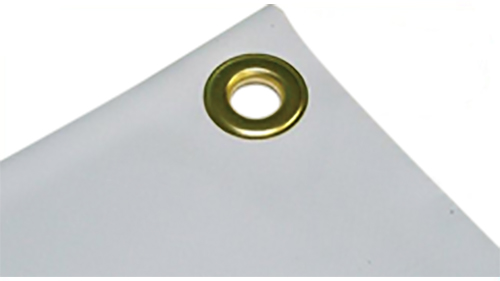 Get experimental!
There are some really handy tools on The Banner Hub online banner designer tool and it costs nothing to give it a try! Play around with different font styles, text effects, flip functions and many more to create your totally personalised printed banner. Nobody will have a banner quite like yours! Have a go here.
If you're short on time or stuck for ideas, why not head over to our banner templates section? Here you'll find some fantastic banner templates to choose from in categories such as birthday banners, schools and playgroups banners, event banners, pub and club banners to name but a few. Simply add your own text and images and hey presto!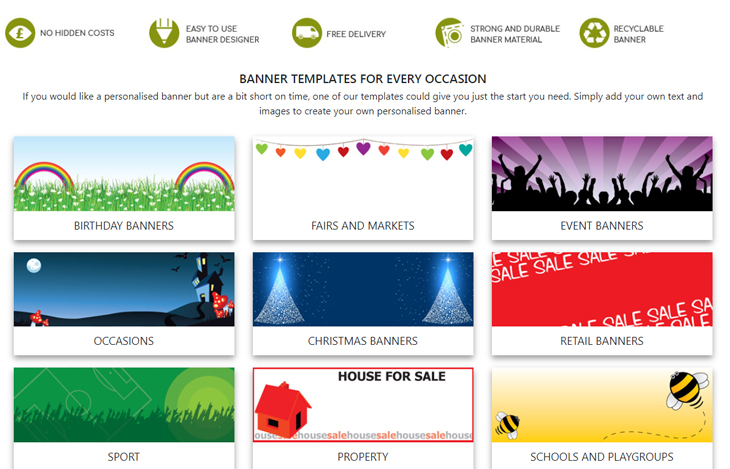 Design service
Did you know that we also offer a banner design service? We'll take your ideas and turn them into a professional, eye-catching banner – the design service starts at only £10. When using our design service, you can specify whatever size printed banner you require. Just let us know what you need!
So, have a go at designing your own personalised banner today and see just how quick and easy it is! Get your message across with a printed banner from The Banner Hub.